Hamilton Invitational Meeting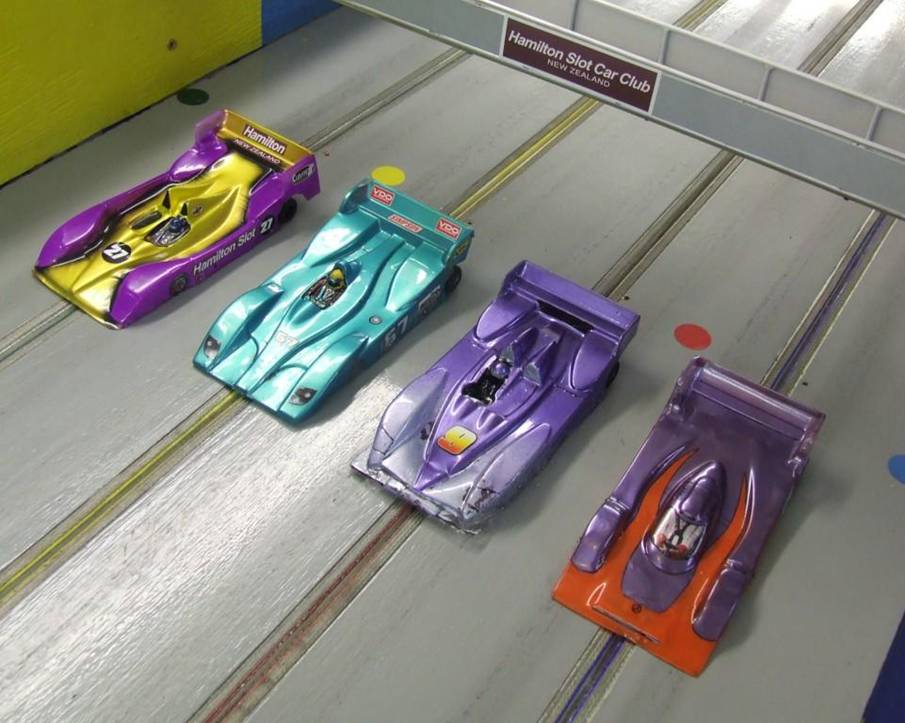 A Final Cars
(from right) Doug Macrae 1st=, Bruce Tocker 3rd,
Laurie Penney 4th, & Paul Caplan 1st=.
Hi Graeme
We had an invitational event over the weekend to mark the re opening of our Hamilton Track after an extensive upgrade.
It was a pay back for all those who had put in money, time and effort to ensure we had a quality upgrade of the track.
Below is a copy of what I posted on our website news page together with some photos.
Full results etc are on our club website under Club Results, PB's, Records etc.
It was good to have a slot car competition back in Hamilton after quite a few years absence.
Congratulations to Doug and Paul for having such a tussle and ending up tieing in first place.
Regards
Bruce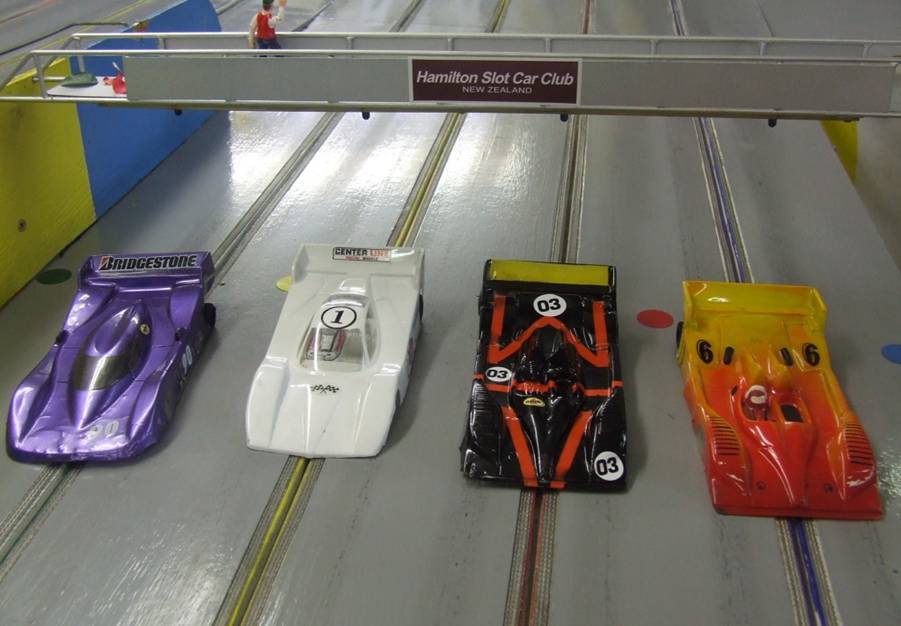 B Final Cars
(from right) Glenn Catchpole 10th, Chris O'Connor 8th,
Wayne Johnston 5th, & Rob Jackson 6th.
Hamilton Invitational Meeting
2nd April 2011
Falcon LMP Class with Flexi Chassis
A full field of twelve entries marked the Invitational Race Meeting to celebrate the opening of our newly upgraded track.
The line up of drivers was: Dion de Graaf, Doug Macrae and Rob Jackson of Auckland, Dan and Stu Smith from Tauranga and Bruce Tocker, Chris O'Connor, Glenn Catchpole, Laurie Penney, Paul Caplan, Tony Gosnell and Wayne Johnston all from Hamilton.
The meeting began with practise from 10.00am and Qualifying (each driver had a minute on the track on their own to set their fastest lap) kicked off at 11.00am. Doug was the first up and set a really hot track lap record of 3.284 secs which was not to be bettered by anyone else on the day and so he became top qualifier. Rob was second with 3.445 secs, followed by Wayne with 3.455 secs.
After the three heats of the first round saw Doug in first place with 187.1 laps (total for 4 three minute races), Paul second with 183.9 laps, Bruce third with 174.8 laps and Laurie 172.2 laps. This saw Bruce and Laurie move up into the top final for the last round with Doug and Paul.
An eventful second round saw some really close racing and some reversals of form. Paul took out the second round with 189.5 laps to Doug's 186.3 and believe it or not their two round totals were exactly the same with a total for the eight races of 373.4 laps, thus both sharing 1st Place for the days racing.
Bruce and Laurie improved on their first round totals with 176.7 and 178.3 laps respectively, Bruce taking out overall 3rd Place with a total of 351.5 laps and Laurie only one lap behind with 350.5 laps for 4th Place.
Wayne pulled out a 184.8 lap second round result to get himself into 5th Place after having a few problems in the first round, his combined total being 350.3 laps, (only 0.2 behind Laurie). Rob ended up in 6th Place with a total of 341.1 laps for the day.
During round one Doug set a new track record for a three minute race with 49.2 laps but Paul beat that in the second round with 49.3 laps to become the record holder in Falcon LMP Class using a JK Flexi Chassis.
Congratulations to the place getters and other drivers for a very good competition.
Young Dion de Graaf enjoyed racing on another track for the first time (his home track being at Henderson) and the experience will be of benefit for him. You should have seen the expression on his face when Paul let him drive a Group 12 after the competition event was completed. A Group 12 in Dion's christmas stocking is his wish for later in the year. (Paul has done a 2.9 sec lap in his Group 12 during testing which shows why Dion got excited).
Congratulations to all of the place getters and other racers as well.
This was the first competition event held in Hamilton for many years and it was good to have an event on the calendar again. The new track went really well and the opening and performance of the track was a great success by all accounts. Another event next year?? Thanks to all the visiting racers, we hoped you enjoyed your day out in Hamilton, home of the ITM V8 Supercar race. May see you back again in two weeks for the Supercars.
Thanks to every one who contributed to the repainting, braiding, new power supply and lap recording system for our track. The results above show how worthwhile it is.


Back to top